Hello lovely sewing friends what have you been sewing lately ! I have a little update for you. After I completed the Vintage inspired Jackie dress and being pleased with the results I always wanted to make more from the book - Sewing Vintage modern. Especially the Lillian blouse.
It took me a weekend to complete this sewing project I made it for a very exciting sewing contest and a sew along.
I was really excited when pattern review announced the

Accessory Wardrobe Contest. This is a very creative concept I feel. We have to sew an accessory or a garment which can be paired with a "Red and Gold" Sandals. Of course the rules clearly state the we need not have such a sandal :D Phew !!
If I had the sandals I would pair it with my black skirt :) Sorry for the bad lighting pic below :|
Golden Buttons
This made me go hunting for lace fabric and gold buttons. Luckily I bumped into a shop which had lace (though it did not house a variety of colors- RED was there .. Yeahhhh!!). Finding the gold buttons was more tough actually ! Finally I found some though they were not the ones I exactly wanted.
Lace Yoke
This blouse is a variation of the Elizabeth gathered waist dress from the book Sewing Vintage modern. It is not a fitted blouse, it has a yoke made of lace, a buttoned up collar and drop shoulders.
The model in the book has tucked the blouse and pairs it with a skirt. I prefer not to tuck it in and a collar which is not high and all buttoned up.
Sewing this slippery fabric was not easy . I had stabilised the fabric before hand and I had to use a lot of pins to get it going smoothly.
I was a little doubtful while drafting if the variation pattern would fit me fine. I crossed my fingers and went ahead. Well the final blouse turned out really good and it is very comfortable to wear. I made it over the weekend and wore it the next day and got a lot of compliments, but no one know I made it;)
The complete review on the pattern is at the pattern review. Click here to read it completely.
Also there is an exciting sew along happening at macskakat blog. I came to know of it from the CuriousKiwi blog. Do you remember I learnt the photoshop technique to visualize fabrics from her(posted here). And I use it till now for all projects. Check out my side bar for the link. Having this Burda sew along in mind I am making 3 projects using Burdastyle patterns this month. This one is my first :) The sew along is for Burda Magazine patterns , patterns form Burdastyle book is also allowed. I have heard the magazine pattern instructions are not very detailed, this sew-along will help you to get more grip on it. But this book is an exception is what I found. The instructions are very clear. You can read it all in my review here.
Update -- Voting is open friends. If you liked my blouse please vote for it. Click here or on the picture. Submitted under name cweetgal :)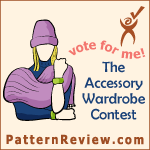 I will be linking up this project to some or all the site linked up here.:)
Have a great day!
Love Diya